Although a database can be defined as a computer container in which to save and consult data related to the same topic or activity, for the efficient manipulation of this collection of information specialized programs are required.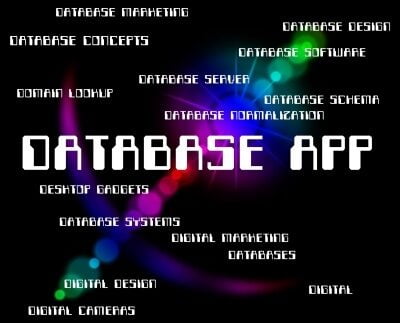 Database applications are used for this, that are just that. So that we can define them briefly how Software programs designed to collect, manage and disseminate information efficiently. In other words, is a program that enables the creation of an interface through which the user, either client or company workers, can enter a database to obtain information from it.
its utility It is, therefore, practical, being able to be oriented to different purposes, determined according to your design, but in general they are used to perform actions such as search, order, perform mathematical and statistical calculations on the data, offer and share information. .
Information that, taking into account the present digital context, It can come from both Data Warehouses and Big Data systems and be hosted in the cloud or on local infrastructures, with increasingly common hybrid schemes. At the same time, the sign of the new times has multiplied the number of applications used, as well as the problems created by the silos in which the data resides.
Besides, advanced applications can be customized to automate certain types of work based on company needs. In this way, complex and inefficient manual programming is avoided..
Some examples: CRM and websites
Popular CRM or customer relationship management system (Customer Relationship Management) is an example of database applications, in this circumstance supported by a customer-oriented management model.
In practice, the success of this commercial marketing policy will depend on the existence of reliable databases (traditional warehouses and big data), as well as the capacity for automation and versatility of the application to design the best marketing strategies. Your ultimate goal is to maximize sales, reduce costs and drive interaction and dialogue to get closer to the customer.
Besides, web-based applications are another illustrative example. In reality, many websites have made database applications the main components of their systems. Among other use cases of database applications in the web environment, highlight retail sites, as is the case with Amazon.
The online commerce giant stores and processes information about its products in databases, while using CRM database applications to maintain customer engagement and seek marketing opportunities with each contact.
To end, even though Facebook has a truly innovative architecture, the application you use is essentially a database built on a MySQ manager, probably the best database platform for current and future web applications. At the same time from the famous social network, among other, is used by Yahoo !, Twitter y Amazon Web Services.
Image source: Stuart Hundred / FreeDigitalPhotos.net
(function(d, s, id) {
var js, fjs = d.getElementsByTagName(s)[0];
if (d.getElementById(id)) return;
js = d.createElement(s); js.id = id;
js.src = "//connect.facebook.net/es_ES/all.js#xfbml=1&status=0";
fjs.parentNode.insertBefore(js, fjs);
}(document, 'script', 'facebook-jssdk'));