The cloud empowered organizations' businesses by giving them flexibility, agility, scalability and the potential for significant savings. Most people today know the benefits of Cloud Computing, What is it and how it works. But, combined with artificial intelligence (HE), is the perfect combination to boost business activity, harness the value of data and offer intuitive experiences to customers or users.
When we talk about AI in this case, we refer to technologies that make up some of its subfields, such as machine and deep learning and deep learning neural networks, which are the ones that turn on the most dynamic applications, like predictive analytics, the data. Processing. natural language and computer vision.

Learn more about AI, machine learning and Big Data

Good, for some time, These artificial intelligence tools have been used to add more value and increase the functionalities of existing cloud computing platforms.. With AI technologies mounted on cloud computing infrastructures, organizations can, as we said, better manage your data, find valuable information to make business decisions and optimize the efficiency of your operating circuits.
Empowered AI adoption
Arguably, the cloud facilitates a "democratization" of the capabilities and benefits of AI by allowing access to big and small players alike, primarily through solutions offered as a service that has embedded artificial intelligence. In fact, large corporate software providers have already integrated AI capabilities into their cloud-based solutions and brought them to the mass market.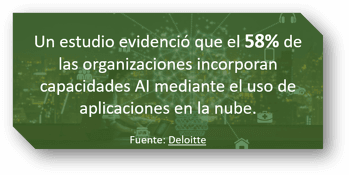 Until a certain point, These cloud solutions relieve companies of the need to have data scientists and artificial intelligence experts on staff. What's more, frees them from the requirement to invest in specialized infrastructure and processing capacity and to access large data sets.

"The cloud will drive more large-scale AI deployments, better return on investment (KING) and higher spending on artificial intelligence".
Source: Deloitte

Specific applications
By integrating with the IT infrastructure, artificial intelligence facilitates self-management of cloud environments: allows to automate workflows, freeing up staff to tackle tasks that add more value and improving load handling.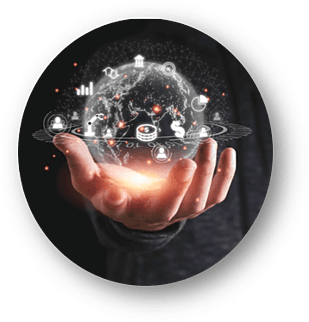 One of the fields in which the "Cloud-Artificial Intelligence" combo has a potentially greater impact is in the data management. effectively: AI allows us to optimize identification processes, selection, administration and analysis. In many ways, artificial intelligence and cloud computing are the perfect match for data-driven innovation. The cognitive capabilities and machine learning of AI "thrive on big data, that become scalable and quickly accessible in a cloud environment". Among other things, the introduction of AI into a cloud technology infrastructure, duly improved with a data warehouse and even better, with a data lake on the cloud: means more processing power for Big Data analysis. Helps identify patterns and trends in different data sets and generate valuable recommendations for customers.

You may be interested in continuing reading: Artificial intelligence at the service of data management

In fact, artificial intelligence has already been integrated into SaaS platforms to optimize aspects such as customer relationship management, finding patterns that allow increasing conversions, improve experiences and optimize sales strategies.
Secondly, virtual assistants based on artificial intelligence - like Alexa, Siri and Google Home- allow users to request songs, make purchases and perform different tasks using a simple voice command. What's more, automated chatbots and virtual assistants already take over many customer service functions, from answering simple questions to routing phone calls.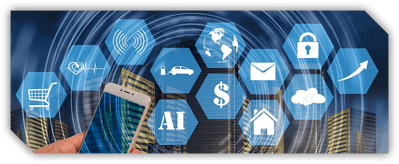 Although in the future it is expected that IoT devices can collect data and make decisions autonomously, today artificial intelligence technology and cloud computing are in a position to connect machines "smart", from thermostats and smart appliances to autonomous cars. ) and manage the huge amount of data they generate.
At the security level, AI can facilitate automation and prevent unauthorized access to cloud environments (detect anomalous events and block them, for instance).
Business software embedded in artificial intelligence and cloud-based artificial intelligence services are facilitating the use of artificial intelligence for non-experts and for various uses. A) Yes, companies without extensive experience in the field still have a golden opportunity ahead: Take Advantage of the Cloud and Get on the AI ​​Train, that will undoubtedly make a big difference in the years to come. .

Do you use integrated AI solutions or cloud-based AI services in your company?
(function(d, s, id) {
var js, fjs = d.getElementsByTagName(s)[0];
if (d.getElementById(id)) return;
js = d.createElement(s); js.id = id;
js.src = "//connect.facebook.net/es_ES/all.js#xfbml=1&status=0";
fjs.parentNode.insertBefore(js, fjs);
}(document, 'script', 'facebook-jssdk'));