Google in the cloud vs. AWS is the question asked by many companies seeking to select the best cloud service provider for your business. During the last decade, cloud computing became more profitable, safe and reliable. They have also improved the proposals in terms of performance.
Competition between the big players in the industry generates profits for consumers, since it reduces costs., and for partners, since it forces them to constantly innovate to stay ahead.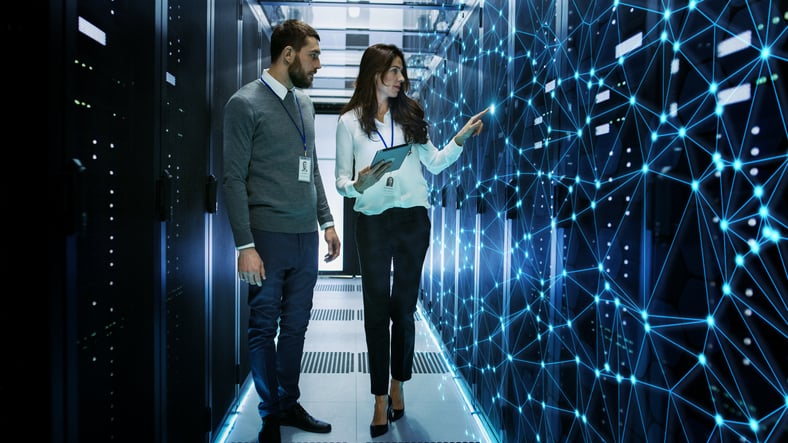 Google Cloud vs AWS: comparison
Google Cloud Platform is essentially made up of many different services and solutions that enable its users to use the same software and hardware infrastructure that Google uses for its own products.., like YouTube and Gmail. Google Compute Engine launched in public preview in June 2012 and was subsequently released for general availability in December 2013. There are currently more than 50 different products in your catalog. Among the big brands now using Google Compute Engine are Apple, Coca Cola, Philips, Sony Music, Domino's Pizza, PayPal and Evernote, among others. The research firm Canalys estimates that the business generated $ 870 million in the third quarter, a 76% more a year.
For his part, Amazon Web Services (AWS) is a subsidiary of Amazon.com that was launched to provide cloud computing services to companies and individuals in 2006. In the same way as Google Cloud Platform, have a multitude of different services and solutions, total more of 200 products. Amazon EC2 was released in a public beta in August 2006, which gave them a six-year lead over Google.. Big brands using Amazon include Netflix, Airbnb, Expedia, Lamborghini or Nasa, among other.
Google Cloud vs AWS: how to select
FOR When selecting a cloud provider, it is common to consider the trade-off between the Google cloud and AWS. Because they are very similar, the easiest thing is to divide the comparison into different categories.
Technology. The technology behind Google Cloud virtual machines is KVM, while the technology behind AWS EC2 virtual machines is Xen. Both offer a range of pre-defined instance configurations with specific amounts of virtual CPU, RAM y red. Despite this, have a different naming convention, which can be confusing at first. Google Compute Engine refers to them as machine types, while Amazon EC2 refers to them as instance types.
Storage / Disco. The type of storage and disks used by a cloud provider play a very important role., since they have a direct impact on performance. There are two main types of storage alternatives when comparing Google vs AWS: block storage and object storage.

Block storage. Block storage is essentially a virtual disk volume that is used in conjunction with cloud-supported virtual machines. Google Compute Engine offers persistent disks, while AWS EC2 offers them through its Elastic Block Store.
Object storage. Object storage, also sometimes called distributed object storage, it is essentially a hosted service for saving and accessing a large number of binary objects. Google Compute Engine offers this through its Google Cloud Storage service., while AWS offers it through its Amazon S3 service.

Google Cloud and AWS use different networks and partners to interconnect their data centers around the world.. and deliver content through the ISP to end users. They offer a range of different products to achieve this.

The achievable network capacity on Google Compute Engine instances works slightly differently, Given the which is based on the amount of CPU your virtual machines have. Each core is subject to a maximum limit of 2 Gbits / second (Gbps) for maximum performance. Each additional core increases the network limit, up to a theoretical maximum of 16 Gbps for each virtual machine.
Amazon EC2 instances have a maximum bandwidth of 25 Gbpsdespite this, this only applies to larger instance sizes. Standard instances reach a maximum of 10 Gbps / second.

Billing and Prices. When comparing the Google cloud to AWS, billing is handled very differently by each of these providers. The truth is, none of them provide a simple way to easily calculate costs. Therefore, estimating your monthly spend with these two cloud providers can be challenging. Inclusive there are online tools that were created to help the user better understand their invoices. It is worth mentioning that AWS offers a dashboard that provides information about invoices and Google Cloud Platform provides estimated exports through its BigQuery tool. it should be noted that AWS announced its billing per second in September 2017, allowing more flexibility for customers who need to create new instances and get a lot of work done in a short time. But, as it is a competitive market, Google Cloud Platform also recently launched its billing per second.
For this case, it is not feasible to compare Google cloud vs AWS, since both offer their users extensive documentation. In both cases, there are community forums that can be used for free. Despite this, those who need immediate assistance or support must pay.
Google Cloud vs AWS: advantages and disadvantages to consider
Many experts recommend that companies evaluate their public cloud needs on a case-by-case basis and match specific applications and workloads with the provider that offers the best option for their needs... Each of the leading vendors has particular strengths and weaknesses that make them suitable for certain projects..
AWS: pros and cons
Amazon's greatest strength is its dominance of the public cloud market.. In its Magic Quadrant for Cloud Infrastructure as a ServiceAll over the world, Gartner noted that "AWS has been the market share leader in the IaaS cloud for more than 10 years".
And what is more, AWS has a wide and growing range of services available, as well as the most complete network of data centers in the world. The Gartner report summed it up by saying that "AWS is the most mature and company-ready provider, with the deepest capabilities to control a large number of users and resources".
Amazon's great weakness is related to cost. Although AWS lowers its prices regularly, many companies have difficulty understanding the company's pricing structure and managing those expenses effectively when running a high volume of workloads on the service. Despite this, These disadvantages are more than offset by the strengths of the Amazon initiative.
Pros and cons of Google Cloud
Google Cloud specializes in high-performance offerings like Big Data, analytics and machine learning.. Plus offers considerable scale and load balancing: Google knows data centers and fast response times.
On the downside, Google ranks third in market share, maybe because it doesn't offer as many different services and features as AWS and Azure. It also doesn't have as many global data centers as AWS or Azure., even when it is expanding rapidly.
Gartner mentioned that its "customers often choose Google as a secondary vendor rather than a strategic vendor, even as customers whose companies compete with Amazon increasingly choose it as a strategic alternative to AWS".
In summary, it could be concluded that, talking about prices and speed, Google Cloud Platform is definitely one of the providers to consider. Of course, AWS They also have a long history of cloud computing services for companies and were also the first to drive the cloud industry, Y continue to stand out for topics such as support, redundancy and availability by region, they are excellent.