The coronavirus (COVID-19 has caught almost everyone off guard, yes not to all my clients. Those who have been forced to telecommutingThey have had to find emergency solutions to mobilize all their staff in a matter of days.
For companies that have already been using Office 365 (or Google Suite) This change has not caused them a digital headache when it comes to continuing to use applications such as Word, Excel, Outlook, Teams, etc.
However, What about information systems type SAP, Navision, A3 or Sage that traditionally have stayed on servers On site? These applications generally represent the center technology of the business processes of many companies, making your availability vital, regardless of where it is accessed from.
The great challenge in recent weeks has been to make these applications ubiquitous, guaranteeing the security of the accesses and attending to the variable load of users. And in this challenge we have bet on our clients for Azure Windows Virtual Desktop (WVD) versus traditional VPN tunnels, remote desktop or VDI sessions.
"Some of my clients have solved the current urgency by creating IP tunnels against computers at user premises, solution that I consider not recommended"

WVD is an Azure PaaS service that allows users of a company to start from their PCs, tablets or mobiles a windows session 10 in transmission and completely personalized. Namely, Windows operating system 10 for the end user it is hosted remotely and not on your local device. Therefore, the user session would be virtualized, but not with a traditional Windows server, but thanks to Windows 10 Enterprise that allows multiple user sessions.
Secondly, the service Azure WVD separates user profile layers, server and application This makes it easier to manage the solution when, for instance, updates of the operating system of the sessions or the publication of new applications to a specific type of user profile.
Al WVD will be hosted on Azure means that this infrastructure can join the local domain and become part of the CPD On site. This integration dramatically reduces IT workload when it comes to deployment and configuration..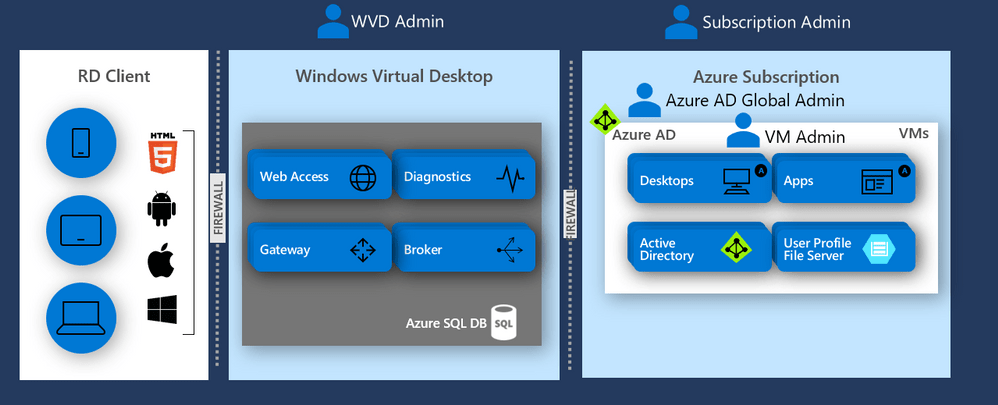 There are some aspects that may be relevant when opting for WVD in a hybrid environment:
The Azure WVD infrastructure would connect via VPN to the on-premises VPN so that the servers host Azure can join the domain. The IPs of the servers host they would not be public.

If the local Windows server has deployed mobile user profiles these would be respected, as well as the GPO Policies applied to those users.

Navigation traffic of remote user sessions could route to firewall that the client has On site.

Remote sessions can access shared resources On site as well as your Office folder 365 OneDrive thanks to technology FSLogix.


It is possible to install Office applications 365: Word, Excel, PowerPoint or Outlook in remote sessions, Although it is essential that the user accessing said session has the appropriate subscription to Office 365, one in which the functionality of "Shared team activation".
They are many, therefore, the benefits implicit in the use of WVD as a teleworking solution, these are the ones we think are the most important:
Security. Azure Active Directory synchronized with Active Directory is used as the authentication method. This allows, for instance, SSO and two-factor authentication.

UX. The end-user experience is that of a Windows 10, with which the user navigates through the remote desktop in a completely intuitive way.

Flexibility. Different Windows session templates are created 10, with different application groups according to user profiles.

Scalability. The necessary computing capacity is adapted to the demand of the number of concurrent users who access the hosters service sessions.

Speed. In a matter of days, users could access the new virtual environment.

Efficiency. The tasks to be carried out by the IT department will be minimal since the implementation in Azure does not require hardware modifications On site.
If you need to know more about this Azure WVD service, such as other technical details or infrastructure and licensing costs, do not hesitate to contact us.
Header photo of Avi richards in Unsplash