It's been a week since Microsoft Inspire 2019 In Las Vegas, Microsoft's annual partner event where we soak up the company's technology news and how we can bring them to our customers.
In this edition, and i guess after getting the comments from the last edit, Microsoft has joined the partner event and the internal company (Microsoft Ready) matching not only the dates, but also numerous activities, so at least in my experience, There has been more relationship between partners and company staff than in previous editions.
IUR and competence requirements
Before focusing on the news in the area that interests me the most –Microsoft Azure-, one of the most applauded actions was when Gavriella schuster, Corporate VP – One Commercial Partner, opened the conference on the first day by commenting on the decision to reverse the decision to eliminate IUR, internal use rights for software and services that Microsoft has been offering since its inception. Weeks before, the announcement of the elimination of the IUR had caused a lot of commotion since not only these rights were eliminated, Rather, the requirements to achieve the competencies that make a Partner stand out in a specific area were much toughened..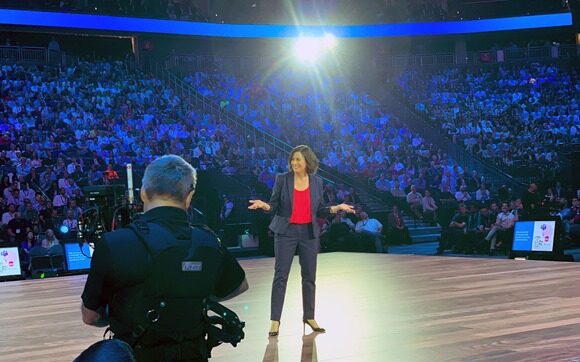 Although of course you can also read the notice to the sailors between the lines: sooner or later, this will happen, only that it will be announced earlier so that each company can act accordingly. If in previous decades the transfer of licenses for internal use did not imply a direct expense in Microsoft accounts, with the transformation of software into online services, there are operating costs of maintaining services. There are no more numbers to do: almost 70.000 partners with internal use rights of up to 100 users, may entail costs, solo en Dynamics 365 of about 300 million euros per year, and that goes down.
Regarding the strengthening of competencies, Microsoft's intention is, in my opinion, reduce the number of partners by staying with the most competent and with those who want to bet on the alliance and the opportunity that lies ahead. And although it will not be to everyone's taste, is something I applaud as it will add much more value to the partner ecosystem.
New Microsoft cloud contract (MCA)
Another of the great points that were present in almost all the sessions I attended is the introduction of the new Microsoft contract for cloud services. This agreement resolves issues that have existed between the different ways a customer can purchase Microsoft services.: directly (Self service); through a business agreement; or through a new partner with various formats, being the Cloud Solution Provider (CSP) the most widespread in recent years.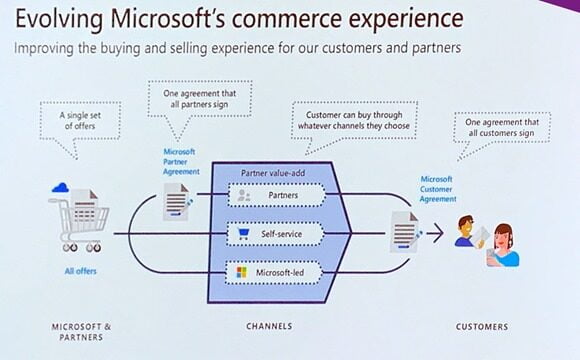 The idea is to unify all the channels in the same MCA, which is the one signed by the end customer, so that the customer can move between the different channels without juggling. Today, for instance, you cannot migrate content from an EA subscription to a CSP or vice versa, without performing complex migration operations. It will also allow, Finally, offer all third-party software that exists in the Azure market through the partner network and under the same contract.
Evidently, the ease with which the customer can seamlessly transition from one model to another, can lead to think that Microsoft wants partners that give added value, either through managed services, consultancy, etc. or any other action that adds value to the string. Partners who are dedicated exclusively to reselling subscriptions without contributing anything additional could see their operations compromised if they continue with this model, so it is a good time to analyze what differential service you can offer to your customers.
This new contract is already available in preliminary version so that associates can review it, being able to begin to be applied voluntarily from the 1 September 2019, being mandatory from 31 of January of 2020.
Professional services in Azure Marketplace
And to make it easier to deliver value, Microsoft opens two new categories in the Azure Marketplace that each partner can offer to their clients based on professional services: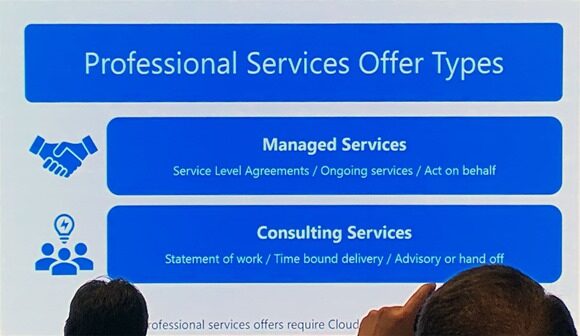 Managed services– Partners will be able to publish managed service offerings through the Azure Marketplace, so that any customer can directly contract the services of a partner through the Azure portal to help them manage a specific workload (specialization here will also be a deciding factor);
Consulting services: although it was already available in some regions (USA, Canada, etc.), now it is open to any partner so that they can offer different consulting services, workshops, trainings, etc. directly through the Azure portal.
Personally, What I find difficult is the visibility that these offers can have if only half of the 70.000 partners upload their professional service offerings to the marketplace. I imagine that in several iterations it will be fine-tuned so that customers can discover them through various utilities such as geographic restriction and other parameters., as it is done today when a customer searches for a partner in the MPN.
Blue lighthouse
And precisely to support all the previous message, born Blue lighthouse, a tool that makes life easier for those of us who manage Azure subscriptions for different tenants and different customers.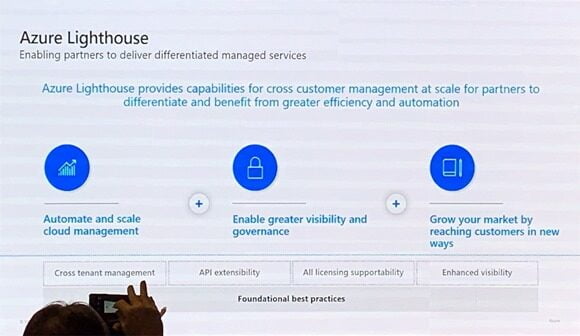 This tool allows, without having to change tenants in the Azure portal, securely manage the subscriptions and resources of tenants of customers who have been granted access. No more problem of using credentials on each client or having a list of more than 100 tenants under the user profile. It also opens the possibility of being able to monitor resources of different accounts from the same dashboard. As they told us, During the internal testing period those who used the tool saw their productivity increase by a 70%. Haven't I mentioned yet that it's free?
Secondly, it is not an exclusive tool for associates, so if you have a multi-tenant environment, and you have the same problem, you will surely want to use it.
Prices set in USD, billed in local currency
And finally, Another thing I have mixed feelings about is the global unification of Azure pricing into a single US dollar price list. This means that the format matches that of AWS, you have avoided having to set prices in every local currency around the world. The invoice will be made in any case, in local currency with the exchange rate found in that month.
Based on customer and partner feedback, the new Azure experience in CSP will use a single price list, in USD, which will provide customers and partners with consistent prices on a global scale. This will allow a more transparent and simplified price reference, regardless of how the customer purchases Azure from Microsoft. " https://blogs.partner.microsoft.com/mpn/expanding-partner-opportunities-with-azure-csp/
This is one of the actions that most makes me think about various scenarios:
ISVs that until now had fixed operating costs, these costs can now be variable if they work with a currency other than the US dollar;
How to sell customers the fact that while it is already difficult to estimate consumption based on pay-per-use, now we must add possible variations in the currency exchange rate.
How clients who have never worked with a currency other than their own are going to take advantage of it
What is clear is that this has never been a problem for AWS customers, and what Microsoft wants in this regard, in addition to greatly simplifying your internal operations, is to facilitate the comparison of pears with pears. Will this drive the use of Reserved Instances to make prepayments and avoid potential currency conversion changes?
Conclusions
The truth is that this edition of Microsoft Inspire has been very… inspiring 🙂 Not only for having the opportunity to see and hear Satya Nadella presenting the future we have and are going to build (click on the image to see the complete Corenote );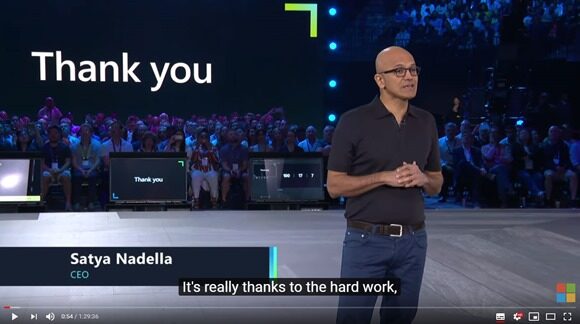 not only for the opportunity to see Simon Sinek live with his talk "The infinite game"That by the way, I think I liked the question and answer part even more than the talk itself; not just for the chance to see Reina + Adam Lambert it lives … that too! But also for the opportunity to connect with a global network of partners, proving that it is the place to do business around Microsoft technologies.
I would not like to end without also highlighting the good work of the team in charge of the Spanish delegation that made everything go perfectly, not just choosing some activities in places "refreshing" (the 47ºC that I came to see in a thermometer are not to be taken as a joke), but keeping us constantly informed of everything that was going to happen. ¡Chapo!
See you at Microsoft Inspire 2020!