At a time like this where teleworking takes a crucial factor for the productivity of our company, knowing how we can use this tool correctly can make the difference between a good telework experience, or that our workers are isolated during their working hours.
To avoid this situation we recommend paying special attention to the following 11 functionalities and advantages that Microsoft Teams has to facilitate our work remotely.
Our written conversations can be done in two ways, the first are private chats where we can start a conversation with one or more users chosen by us. Its operation is similar to that of other messaging tools such as Messenger or WhatsApp, enabling advanced productivity options like rich text editing, share files, video calls, customization via tabs, translation of the language of the messages, choice of importance, etc.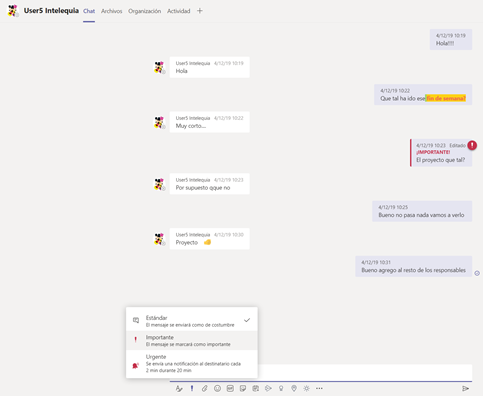 The second option is the team posts tabs, those that have a long reach when it comes to conversations about a project or workspace are organized in the form of posts and comments to said post, something similar to what we can see in social networks like Facebook, Twitter o Yammer. These also add the ability to generate instant meetings that the entire team can access by default and, of course, all files that are attached to posts will be stored in SharePoint Online instead of in a private area like OneDrive.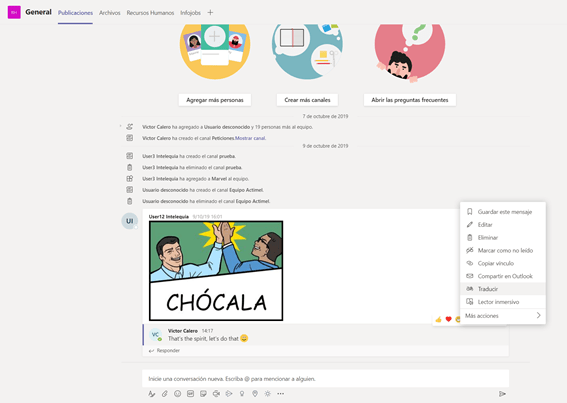 The superior search engine not only serves to find contacts, computers or files, it also allows us to use a series of commands using the character "/" to facilitate our work, how to quickly find the last used files or mark our availability status. .


And Teams, video conferencing plays a central role and for this reason they have a large number of advanced functionalities ranging from screen sharing and the ability to take control of it, background blur to avoid distractions, video recording stored in Microsoft Stream for later viewing. and download and transcription to text, Integrated chat with where the meeting was launched from, etc.
All this added to its ability to, through a link, anyone both external and internal to the organization without the need for Office 365 can join these meetings, making it a great solution to carry out all kinds of organizational or decision-making meetings. Decision making.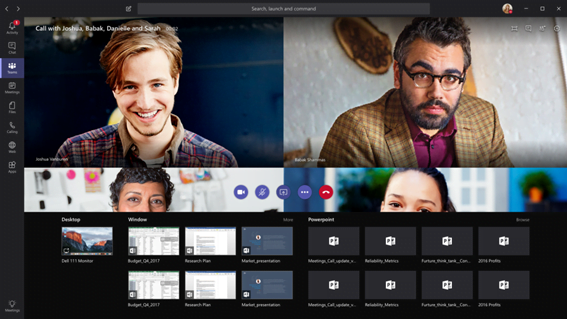 Every time you store a file through Teams, actually saved to OneDrive or Sharepoint, this means they are immediately shared with colleagues who can access and edit it at the same time as you. This is what is known as multiple edition and it is ensured thanks to a versioning system that will allow us to recover data from previous versions if there is any misunderstanding.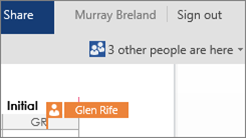 It is becoming more and more common to be involved in various departments and projects, but this does not mean that we should always have all its content present in our workspace, for this reason both the teams and their channels can be hidden and reordered. to adapt our workspace in the way that is most efficient for us.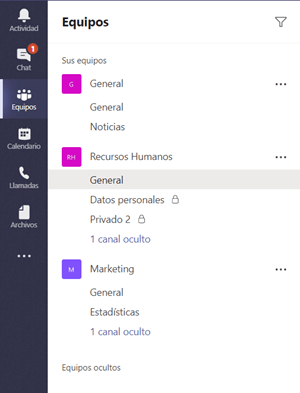 In both private and team chats we have tabs that allow us to add specific applications for those users who may need to use them, making Teams an application hub in such a way that the need to open multiple tabs or browser applications is reduced. desk.
This makes tabs with applications like Planner or Trello available for organizing tasks, PowerPoint, OneNote or Wiki for documentation of processes and manuals, and even all kinds of online applications through the web component.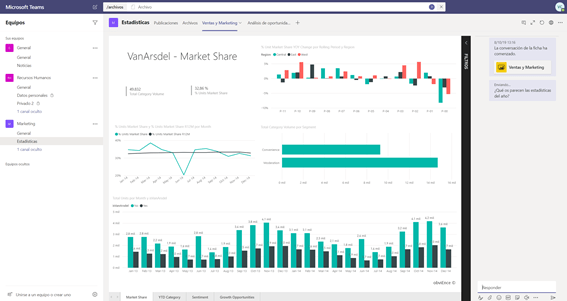 When we add users to a team, everyone will be able to access all files, conversations, connectors and information. But this does not mean that we can define private areas within a team, for this we have private channels where we can define which of the group members can access the information stored in it.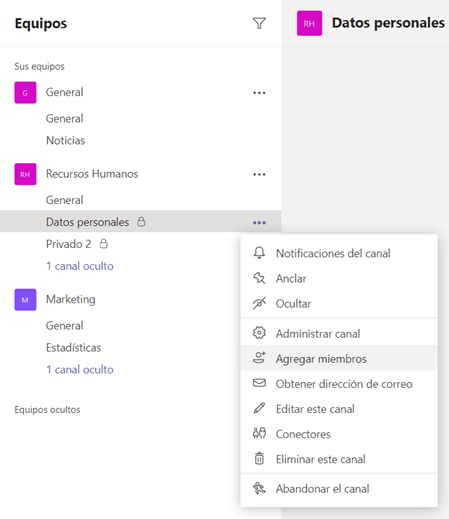 Before any decision-making that arises from a conversation, We have the possibility of associating a form so that the members of the conversation can give their opinion in the most organized way possible using Microsoft Forms.

The files tab allows us a basic file management, but this may not be enough for libraries with large number of files. For this we can always copy the url of a personalized library and use the web tab to bring us all the filtering and visualization functionalities.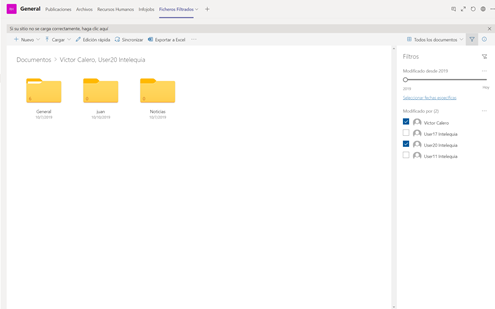 Thanks to a plugin, live events can be created to reach a large number of people with the possibility of managing multiple speakers, question and answer section with moderators, instant translation of text and all the elements that are necessary to carry out a live event .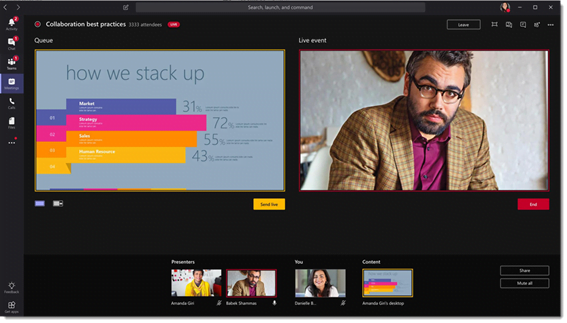 One of the drawbacks that end users can put off to telecommute is the need to install another program on their personal computer. In this case, Teams is fully functional via the web both in its free version and in the subscription version of Office 365, thus being able to maintain a team "home" without having to install your own workplace applications.

These are just some of the many possibilities that Microsoft Teams offers us to improve our day to day, either in the office, at home, from our mobile or wherever it suits us. If you want to know in depth these and many other advantages of using Teams join our next webinar noble Introduction to telecommuting with Microsoft Teams, that will be issued on 20 March at 11:00 (10:00 in the Canary Islands). Register in the following link: