In the atypical situation in which we find ourselves, many companies will adopt the Suite Office 365 as a teleworking solution for your workers. A common mistake among companies that have used it for a long time is the underuse of all its services. In most cases what I find myself is just using Outlook (Exchange Online), Word, Excel, OneNote, PowerPoint and OneDrive, In other words, the more or less recognized tools or, as in the case of OneDrive, replace on certain occasions from DropBox .
And what about SharePoint Online, Teams, Power Automate, Power Apps …? They leave them inactive because they are tools that conceive a new way of working, and in consequence, the need in the company of a training procedure for all workers to train them in the new collaborative culture of the digital world.
If the deployment of these new tools is assumed only by the IT department, it will turn a brown that will surely be postponed over time. This is what usually happens under the premise of "Let's see if I run away and nobody from the company asks me". So that this does not happen, must be the human resources department that drives the rest of the company. How? Many companies have chosen to create digital transformation teams with workers from different areas to analyze, execute and evangelize change.
If your company has already created such a team and among the priority tasks had the Sharepoint Online and Teams implementation, I detail some considerations to consider make users' flight to the collaborative document cloud as pleasant as possible.
Am I thinking of a hybrid scenario where my local storage network drive syncs with SharePoint Online?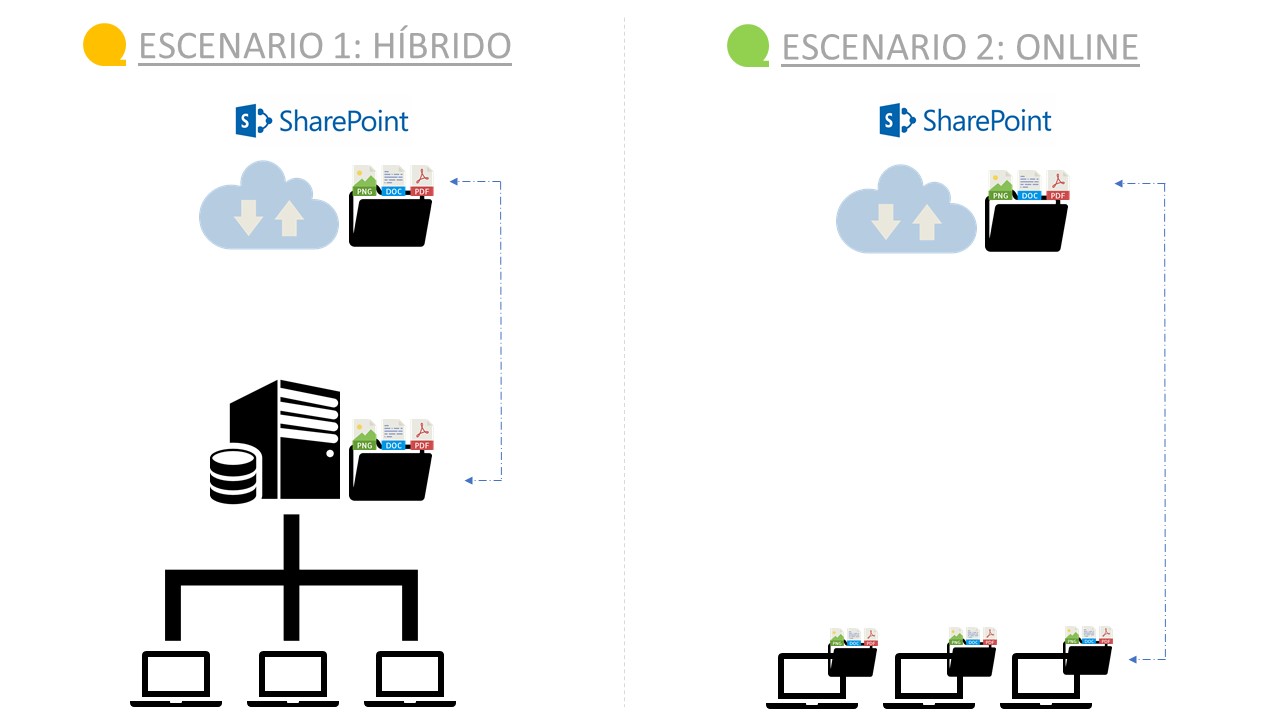 Doubts always arise Yes whether or not to keep the local file server and sync it with SharePoint Online. Or on the contrary, remove local server and have computers file explorer sync directly with SharePoint Online.
One of the objections I have encountered to the absolutely online scenario is that, and mapped new SharePoint Online storage network drive in PC File Explorer (a replica of the previous local storage network drive but brought as-is to the cloud), PCs needed to have enough storage capacity for the local server. Unavailable in several cases.

Despite this, This is no longer the case. With the improvements entered since build 17.3.7064.1005 the superior OneDrive File Synchronizer which is installed on each PC (Need W10 Fall Creators Update version 16299.15 the superior) Synced files will always be stored in SharePoint Online, not on pc, even if viewed in File Explorer. Only a replica of the file will be saved on your PC when you download it (abra) to work with him. This the functionality is called "file on demand" which enables you to work with those downloaded files in a disconnected.

"My recommendation is to migrate to an absolutely online scenario"
Do you incorporate Teams in the company? Do I use document libraries that are created with a Teams team?
When a new team is registered in Teams (as an example, Sales team) a SharePoint Online site is automatically created. Associated with the new site, a document library. This library is represented by an Equipment tab called "Records" that cannot be erased. The URL path within the SharePoint Online of said library would be the next one for this Commercial Team.
https://tuempresa.sharepoint.com/sites/EquipoComercial/Documentos compartidos
During the incorporation of Teams to the company, the typical doubts arise as to whether or not to use these document libraries. It will depend exclusively on the document hierarchy of folders defined in the company. Do you have document folders associated with computers? Do you have document folders associated with clients? Do you have folders by department and not by teams? Have you had folders for years? Many questions arise to analyze …
"Microsoft Teams is much more than just the ability to chat as a team"
What Teams enables if you don't want to make use of said document library is to add any other path to storage of your Sharepoint Online. In summary, team members will have in that tab "Records" any document container that is required, making folder search more intuitive / documents.

If you want to know in depth these and many other advantages of using Teams join our next webinar noble "Introduction to telecommuting with Microsoft Teams", that will be issued on 20 March at 11:00 (10:00 in the Canary Islands). Register in the following link:
Access the webinar with this link
Cover photo of Frank McKenna in Unsplash