Oracle Big Data is a platform that simplifies big data management who manages your company.
For Oracle it is a natural evolution of databases and data warehouses, where is one of the reference commercial alternatives. Con Oracle Big Data, Oracle Gains a Competitive Advantage with an Information Strategy and Big Data Architecture Focused on Data Liquidity.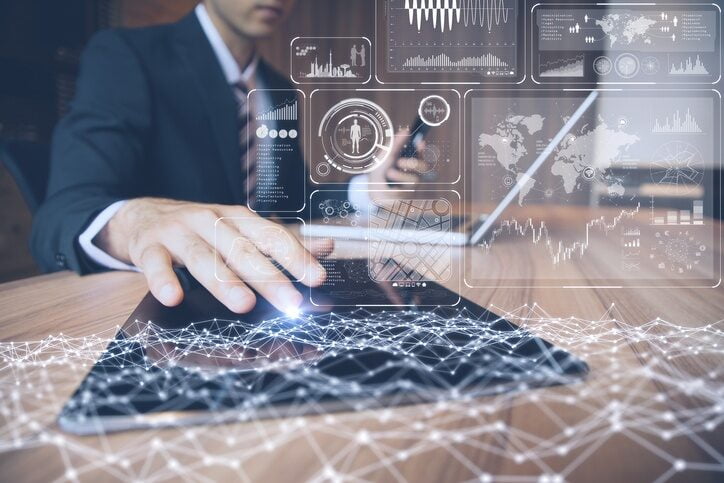 The main advantages of Oracle Big Data are:
Oracle has a large number of successful implementations.
It has a large number of tools that make development easier and faster.
Great scalability and speed for data processing.
Price payable.
A designed system called Big Data Appliance.
Big Data de Oracle It is a flexible platform that stands out for its high performance and differs from other options on the market due to its security configuration., enabling you to run multiple workloads on Hadoop and NoSQL systems with full warranty.
By combining the latest technologies from the Hadoop ecosystem and the powerful capabilities of Oracle SQL in a single preconfigured platform, Big Data de Oracle is the optimal answer to support the rapid development of new Big Data applications and tight integration with existing relational data.
Oracle Big Data: 1 solution and 3 products to consider
Within the framework of the Oracle Big Data response, institutions find the best support for different business processes thanks to very complete products aligned with current business needs. In particular, we could point out the following three:
Big Data integration. This Oracle Big Data product makes it possible to access data from a range of sources, both dynamic and at rest; and proceed to clean them, prepare and transform them, leaving them ready to be consumed by business users.
Big Data Administration. Work with all types of data and technologies, seamlessly integrating big data with information, existing applications and reports, is a reality with Big Data de Oracle. Big data management response is enabled in different options, to implement managed and automated services in Oracle's data centers or those of your own business.
Big Data Analysis. To extract the value from the data, collecting them is not enough, it is necessary to put them to work and this is achieved in many ways, one of them is through the execution of predictive analysis models. With Oracle Big Data you can use machine learning to explore your data in a simple and personalized way, thanks to customizable desktops that make it easy to ask questions about any information, in any environment, on any device.
Big Data de Oracle enables your company to harness the potential of cloud computing, making the latest big data technologies available to all business users.
Cloud and Oracle Big Data Combination Drives Cost Reduction, improves integration between systems, ensures the elasticity of the architecture and promotes better and faster decision making.
Would you like to experience Hadoop speed and in-memory analytics?, combined with the ability to analyze new data sources?
(function(d, s, id) {
var js, fjs = d.getElementsByTagName(s)[0];
if (d.getElementById(id)) return;
js = d.createElement(s); js.id = id;
js.src = "//connect.facebook.net/es_ES/all.js#xfbml=1&status=0";
fjs.parentNode.insertBefore(js, fjs);
}(document, 'script', 'facebook-jssdk'));